The irregular verb "schreiben" in German
Meaning of "schreiben"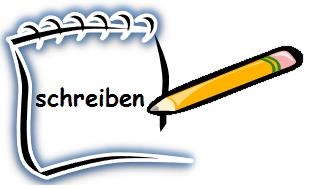 The verb "schreiben" means:
to write
Ich schreibe einen Roman
I am writing a novel
An wen hast du geschrieben?
Whom did your write to?
Wirst du mir aus dem Urlaub eine Postkarte schreiben?
Will you write me a postcard when you're on vacation?
Der Roman "Die Leiden des jungen Werther" wurde von Johann Wolfgang von Goethe geschrieben
The novel "The Suffering of the young man Werther" was written by Goethe
Structure: scheiben + [an + ACCUSATIVE (whom is written to)] + ACCUSATIVE (what was written)
Expressions:
Schreib dir das hinter die Ohren
Keep this in mind
Grammar of "schreiben"
"schreiben" is an irregular verb.
Main article: Irregular verbs
Conjugation of "schreiben"
| Conjugation | Meaning |
| --- | --- |
| ich schreibe | I write |
| du schreibst | you write |
| er schreibt | he writes |
| wir schreiben | we write |
| ihr schreibt | you write |
| sie schreiben | they write |
Ich habe dir ein Gedicht geschrieben
I wrote you a poem
Conjugation
Meaning
ich habe

geschrieben

I have written
du hast geschrieben
you have written
er hat geschrieben
he has written
wir haben geschrieben
we have written
ihr habt geschrieben
you have written
sie haben geschrieben
they have written
Conjugation
Meaning
ich

schrieb

I wrote
du schriebst
you wrote
er schrieb
he wrote
wir schrieben
we wrote
ihr schriebt
you wrote
sie schrieben
they wrote
Franz Kafka schrieb viele berühmte Liebesbriefe
Franz Kafka wrote many famous love letters
Conjugation
ich schriebe
du schriebest
er schriebe
wir schrieben
ihr schriebet
sie schrieben
Partizip I
Partizip II
schreibend
(writing)
geschrieben
(written)
| Person | Conjugation | Meaning |
| --- | --- | --- |
| 2nd person singular | schreib | write |
| 2nd person plural | schreibt | write |
| Polite form | schreiben Sie | write |
Schreib mir, wenn du gut zu Hause angekommen bist
Write me when you've safely gotten home
Verbs with the stem "schreiben"
Verb
Meaning
aufschreiben
to note, to write down
(separable verb)
ausschreiben
to advertise a job
(separable verb)
beschreiben
to describe
(inseparable verb)
gutschreiben
to credit (an account)
(separable verb)